BECAUSE WE CARE
HOW WE GIVE BACK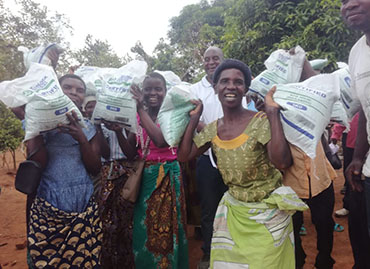 We are always involved in community-benefiting projects that aim to uplift farmers. Farmers are at the heart of our enterprise and they play a crucial role in every society. That's why their well being is our priority.
Our efforts extend to the larger part of the community as well. Over the past decade we have donated hybrid seeds and other commodities to different vulnerable and underprivileged communities in Malawi. We have also provided free training and follow up services to small scale farmers in rural areas to expose them to better farming practices.
"
Happiness doesn't result from what we get, but from what we give
.
April 2022
Among some of the communities we have had the privileged of serving include the victims of cyclones in Malawi. We have donated 4.8 tones of Peacock MH 30 and Peacock 10 of medium maturing seeds to the Catholic Bishops through the Catholic Development Commission in Malawi (CADECOM) Caritas Malawi worth K9.6 million.
You can read more about it from Nyasatimes and AMACEA
March 2022
As one way of supporting those affected by floods in Salima District, Peacock Seeds Company has donated 1000 Kgs of seeds worth four million Malawi kwacha to Muslim Association of Malawi (MAM). Salima has struggled with the effects of Cyclone Ana that has affected many households.
Read more about this from Malawi Muslims Official Website
April 2021
We donated 13 Metric tons of maize seed worth K21 Million to Blantyre Agriculture Development Division (ADD) to help farmers who have been affected by drought in the Southern Region. This was part of our corporate social responsibility and we also value the good relationship between the company and the farmers in the affected districts.The seed we have donated can cover 650 hectors of land and if properly managed under irrigation, it can produce about 6500 metric tons
You can read more about it from The Atlas Malawi and The Times
March 2021
As the Media was celebrating for World Press Freedom Day, Peacock Seeds Company supported Media Institute for Southern Africa, Malawi chapter (MISA MALAWI) with a donation of maize seeds worth K500 thousand Kwacha. The support was meant to be part of MISA Malawi's donation to Rumphi hospital and for the 250 flood victims in Rumphi district. The donated maize seeds to MISA Malawi chapter is half a tonne (that is 250 packs each weighing 2kgs amounting totaling to 500kgs)
Read more about this here